For Immediate Release - February 16, 2021
A 6,000 kilometer commute is not what comes to mind when we think of fighting climate change. But that's exactly what Dr. Pierre Fogal does when he travels from Guelph to his office in Eureka, Nunavut. Situated on Ellesmere Island, he leads a team of researchers at the Polar Environment Atmospheric Research Laboratory (PEARL).
"While Pierre's work might be invisible to many people in Guelph, his research in the high arctic has been crucial to the science of climate change for scientists around the world." said Evan Ferrari, Executive Director of eMERGE Guelph Sustainability.  
Most years, he spends at least three months at his laboratory. COVID has made it difficult for him over the last year.  But rest assured that massive volumes of climate data are being uploaded to the internet regularly. However, the remoteness of Eureka means that the PEARL team also has to find sufficient funding to keep the centre running. It's no surprise that transportation and energy costs can be quite staggering, but imagine a yearly internet bill of $84,000.
Much of what we take for granted in Guelph can be difficult to come by in Eureka. Imagine doing your job without seeing sunlight for months. Then, on February 20th  seeing a mere hour and 14 minutes of daylight for the first time since the previous October.  Make no mistake, the work done by Pierre and the PEARL team is crucial in understanding the impacts we're having on climate change. 
Join eMERGE and the Making Box as we celebrate the work of:
Dr. Pierre Fogal
eMERGE Climate Change Hero
Thursday , March 4, 2021
7:00 PM - 8:30 PM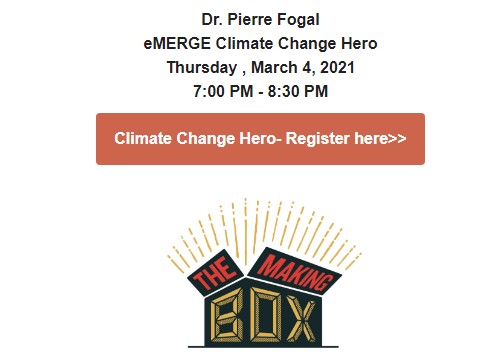 -30 -