For Immediate Release - 23 June 2022
Circular Innovation Council, in partnership with Our Food Future, to Extend Successful IC&I Organics Collection Pilot
Businesses in Guelph-Wellington are invited to participate in next stage of project
New federal funding for an innovative food waste diversion program is opening the door for more businesses and institutions in Guelph and Wellington County to reduce their food waste, reduce the cost of organics collection, reduce their carbon footprint and help improve community food access.
Over 50 per cent of all food in Canada is wasted every year, representing annual losses of more than $107 billion, while one in seven Canadians suffer from food insecurity. In addition, eight per cent of global greenhouse gas emissions are caused by food waste. Along the processing, distribution, foodservice and retail value chain, an estimated 22 million tonnes of food waste are produced annually across Canada.
There are multiple barriers to organics collection and composting in the industrial, commercial and institutional sector (IC&I), including lack of regulatory requirements, cost premiums above disposal, and in some regions, limited organics processing capacity.  
The Circular Food Recovery and Waste Diversion Pilot, led by Circular Innovation Council in partnership with Our Food Future, has been successfully trialling an innovative model to improve management and recovery of edible food and food waste from the ICI sector to redefine value and put circular economy concepts into action.    
With seed funding from Agriculture Canada and local support from County of Wellington and City of Guelph solid waste divisions, alongside Grand River Agricultural Society, Longo's, Skyline Group of Companies, University of Guelph, Walker Industries, Waste Management, Second Harvest, CleanRiver Recycling, Glad and other local non-profit partners, the pilot aims to mimic the efficient municipal model of door-to-door waste collection by regionally consolidating a collection route for all sizes and types of businesses and institutions generating food waste.
Following a unique co-operative cost-sharing financial model, the pilot aims to improve affordability of organic waste collection, reduce garbage disposal costs by removing organics, reduce greenhouse gas emissions, and connect businesses to charitable agencies that are able to redistribute 'rescued' fresh food that might otherwise be wasted.
Based on its successes to date, the idea was selected as a Finalist in Agriculture and Agri-Food Canada's Food Waste Reduction Challenge: Business Models stream, enabling the existing pilot to be extended in Guelph and Wellington County, while also seeking additional pilot host municipalities to test its replicability in other locations.
"Being selected as a Finalist recognizes Circular Innovation Council's leadership in developing innovative circular economy solutions and facilitating unique partnerships between the public and private sectors", says Jo-Anne St. Godard, Executive Director.  "We look forward to improving and expanding the co-operative co-shared financial model in Guelph-Wellington while testing its transferability in other jurisdictions across Canada."
"We know that the IC&I sector represents a significant gap in food waste reduction and diversion in the food system. This project has shown very promising early indicators that businesses and communities can work cooperatively to not only reduce the considerable environmental impacts of this waste, but also improve food access for individuals and families that need our support. We are excited to be able to invite more businesses and organizations in Guelph and Wellington County to get involved," says Barbara Swartzentruber, Executive Director, Our Food Future.
As one of 24 semi-finalists announced in May 2021 for the Agriculture and Agri-Food Canada Food Waste Reduction Challenge: Business Models stream, Circular Innovation Council received a $100,000 grant to start-up pilot operations in Guelph-Wellington.
Now, as one 12 finalists, Circular Innovation Council has been granted additional funding to further extend the pilot in Guelph-Wellington; as well as test this model in other communities over a one-year period; and is eligible to receive up to $1,500,000 and become a Grand Prize Winner for The Food Waste Reduction Challenge: Business Models stream in 2023.
Guelph-Wellington Results to Date: (Nov 1 – April 30, 2022)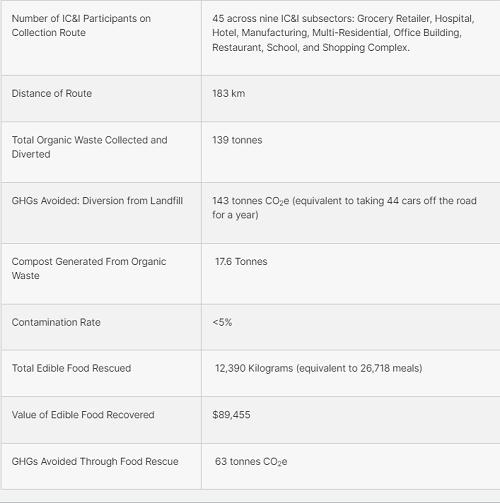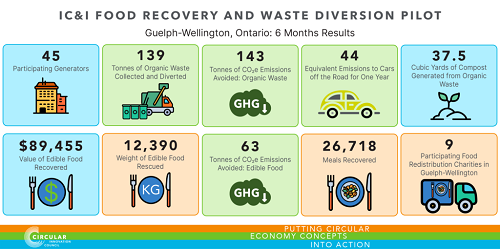 Preliminary results indicate strong staff engagement and support for the pilot, alongside minimal additional training required to successfully separate food waste. In addition, over the first six months, there have been no concerns logged regarding odors and pests, with organic collection totes having a compostable liner bag that is replaced weekly. The project is seeking additional businesses and institutions to join the next phase of the pilot to increase the route density, finalize the economics and cost savings achieved through this model.
-30-