Grand Opening success!- December 16, 2013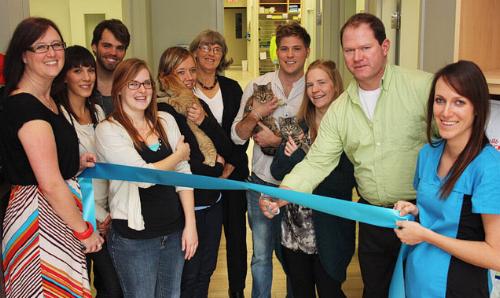 The ownership and staff of Guelph Lake Veterinary Hospital would like to thank everyone who joined us at our Grand Opening celebration on Sunday, December 8th.
We were so thrilled to see so many familiar faces come through the door – family, friends and supporters, as well as some new clients and neighbours! GLVH's first-ever pet patient, Lily the sheltie, visited with her owners and Dr. Mel was in charge of examining stuffed animal pets that joined us with their young owners.
We were pleased to meet representatives from the City of Guelph including Ian Findlay (our Ward 2 representative) who was our first visitor of the day and Cam Guthrie who, despite being a Ward 4 councillor, made the trek allllll the way over to our side of the city!
Thank you to Caroline and Gwen from the Guelph Humane Society for bringing so many adorable cats for adoption. Our bank of kennels in the treatment area of the hospital was full of rambunctious kittens and had a crowd around it all afternoon. The very friendly Harvey, a big fluffy black cat, was adopted and several other families were interested in learning more about the process for adoption. Stay tuned for more details on our continuing relationship with the Humane Society!
We were happy to have a collection of door prizes provided by our vendors and associates, and one lucky little girl even won an iPod Shuffle! We were also pleased to provide refreshments to our guests, featuring local businesses including Planet Bean coffee, a delicious cheese assortment from Chartelli's on Grange Rd, and adorable (and delicious!) cupcakes from Sweet Temptations.
We are so happy to be part of this community on the east end of Guelph, and we look forward to meeting more of our neighbours and business leaders in the months to come. If you weren't able to come to the Grand Opening, we welcome you to drop in and say hello!