Staff Writer, Cameron Burgess
Another slow start for the Guelph Nighthawks proved to be too much to overcome, as they dropped a close contest to the Hamilton Honey Badgers on Wednesday night by a score of 102-96.
Chadrack Lufile opened the scoring with 2 of his 17 points for the Nighthawks, but the opening quarter belonged to the Honey Badgers. After the opening few minutes, Hamilton began to pull away and had extended their lead to 16 points by late in the quarter. Aaron Redpath ended the quarter with a last-second steal and layup to cut the deficit to 12 points, as the Nighthawks trailed the Honey Badgers 32-20 after the opening frame.
The offensive struggles for the Nighthawks continued in the second quarter, as they were able to score just 15 points. The Honey Badgers took advantage of this, building up a 21-point lead by halftime. Going into the break, the Honey Badgers held a 56-35 lead over the Nighthawks.
Guelph has proven early on in their inaugural season that they are capable of making adjustments in the second half, and they showed that again against Hamilton. Jamal Reynolds led the charge early in the quarter for the Nighthawks, scoring 9 of his team-high 20 points in the quarter.
The Nighthawks saved their best quarter for last, outscoring the Honey Badgers 34-21. Unfortunately, it proved to be too little, too late as the Nighthawks fell just short of completing the comeback.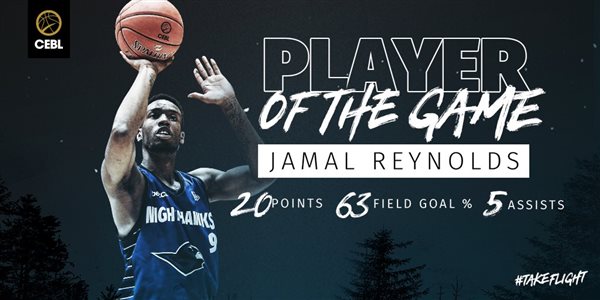 Reynolds was named Player of the Game for the Nighthawks for his efforts, scoring 20 points on 63% shooting in addition to 5 assists, 3 rebounds and 2 steals. The Honey Badgers named Demetrius Denzel-Dyson their Player of the Game, finishing with a game-high 22 points, along with 9 rebounds and 7 assists.
With the loss, the Nighthawks fall to 2-4 this season, but have a chance to end their three-game losing streak on June 8 when the Saskatchewan Rattlers come to the Sleeman Centre.
-30 -