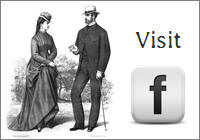 344 - 6/18/2018 2:38:00 PM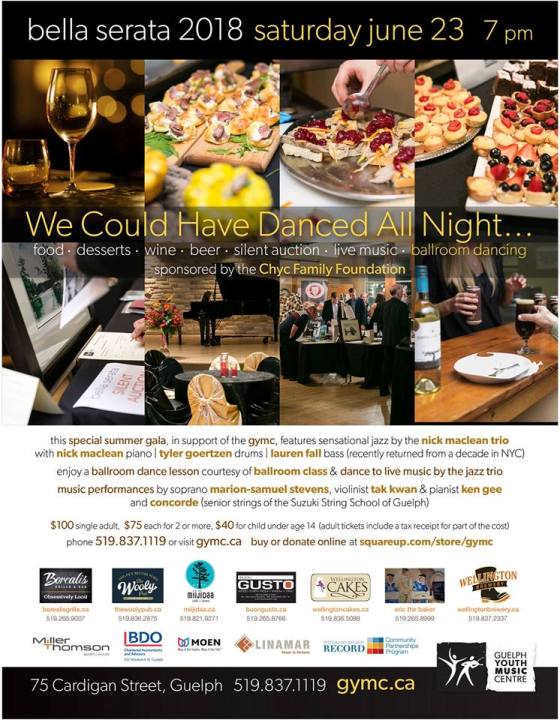 "Bella Serata" - GYMC's 2018 Gala


GYMC's Gala Evening promises to be its most entertaining fundraiser ever!

After over a year's absence, the Guelph Youth Music Centre's gala evening "Bella Serata" (beautiful evening) returns on Saturday June 23 at 7 pm with the theme "We Could Have Danced All Night!"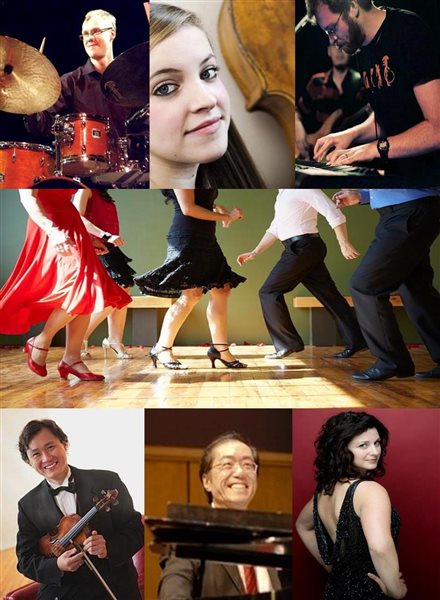 For Immediate Release 


The best features of past galas are included - wonderful food by some of the area's finest restaurants and caterers, delectable desserts, wine, beer and other beverages, an exceptional Silent Auction, plus Classical music performances in the stunning acoustics of the Recital Hall.
New
to Bella Serata is
exceptional jazz
by the
Nick Maclean Trio 
which includes
Tyler Goertzen
 on drums,
Lauren Falls: Bassist and Composer
, and
Nick Maclean - Pianist/Synthist
, plus a
demonstration
and
group lesson
by
professional ballroom dance teachers
from
http://www.ballroomclass.ca/
, offering the chance to
dance to live music
by the jazz trio. Award-winning pianist, Nick Maclean has been deemed one of the most gifted young Toronto pianists to come along in recent years. Maclean received his Bachelor of Music from Humber College in 2013 and went on to do his Masters in Jazz Performance at the University of Toronto researching synthesizer pedagogy. He leads the hard-swinging NYC-style jazz ensemble The Nick Maclean Quartet, which was formed in 2016.
Classical music performances will feature
"Concorde"
(the senior string ensemble of the
Suzuki String School of Guelph
, founding resident organization of the GYMC), Toronto violinist
Tak Kwan 
(
http://takkwan.com
conce
rt performer and director of the GYMC's orchestra programs), renowned soprano Marion Samuel-Stevens-Soprano, and, pianist Ken Gee (about ken gee , artistic director of Guelph Musicfest).
Food and wine vendors are: Miijidaa Café & Bistro, The Wooly, Borealis Grille & Bar (Guelph), Buon Gusto, Cassoulet Catering, Wellington Cakes, Eric the Baker, Red Brick Café, Wellington Brewery, and, Vineland Estates Winery.

This year's gala is generously sponsored by the Chyc Family Foundation. The event is also generously supported by Miller Thomson Lawyers, BDO Chartered Accountants, Moen Canada, LINAMAR, Guelph Mercury Tribune and Waterloo Region Record.
Tickets include all food, wine, beer and other beverages, as well as live performances and dancing. A tax receipt for a portion of the adult tickets will be issued.
Tickets
are being offered at a
special price of $75 each for two or more adult tickets
(they are $100 each for one ticket); $40 for children under 14.
Order Tickets Online
at:
https://squareup.com/store/gymc
 ,
call
519.837.1119
 or
pick them up in person
at the
GYMC, 75 Cardigan Street, Guelph - Map: http://gymc.ca/contact/
"We are so excited to have Nick Maclean and company perform at this year's gala," commented Gabriella Currie-Ziegler, Executive Director of the Guelph Youth Music Centre. "This has become a highly sought-after event with fantastic performances, excellent food and many silent auction items. Along with the jazz and ballroom dancing, this will be the most fun gala ever - what a great way to support the GYMC's community work and have a great time! I highly recommend buying tickets now to ensure your spot."

Established in 1992, the GYMC is a not-for-profit organization dedicated to education, enrichment and fostering the development of youth through music and the arts. The unique facility officially opened its doors in September 2001 after six years of renovations. The GYMC is an exciting cultural hub for children of all ages and backgrounds in the community. Through a variety of programs, provision of space to partner organizations and outreach into the community, the GYMC enriches many lives. For more information visit
www.gymc.ca
or call
519.837.1119
.



&nbsp &nbsp