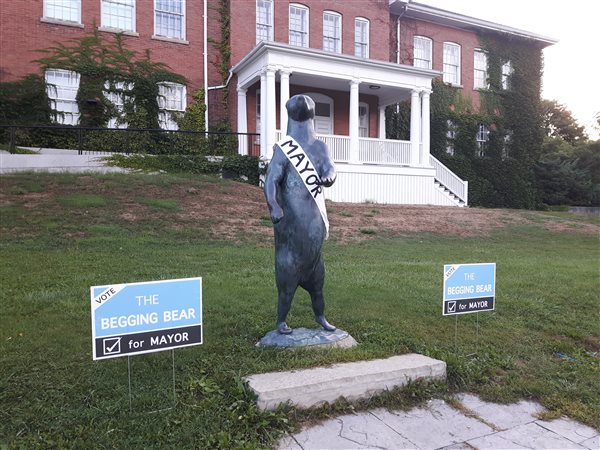 For Immediate Release
Guelph, ON., The Begging Bear has officially launched a bid to run for Mayor of The City of Guelph today.  An irreverent move that will probably not really surprise many Guelph residents.  The Bear is adored throughout the city and is well known for creating a lot of smiles and photo opportunities with the wide array of outrageous outfits it has worn over the years.
 The campaign was launched today with a twitter announcement, press release, and election lawn signs that have been placed in front of The Art Gallery of Guelph where The Bear resides.  In a twitter statement,
@MayorBear1
declared:
" Grrrr!  Let's do this!"
The principal campaign promise to "Provide Free Access To Honey For Everyone" is sure to be popular since we are all aware of the delicious taste of honey and its' many health benefits.
A
GoFundMe
campaign has even been set up and has already raised $25 to help with the cost of the election signs and "to help re-stock my dwindling winter honey supply."
The Bear could not be reached for further comment at this time.
 - 30 -