Staff Writer, Cameron Burgess - June 24, 2019
Game Summary –  Guelph Nighthawks vs. Hamilton Honey Badgers  ( June 22nd)
The Guelph Nighthawks came up just short on Saturday night, falling to the Hamilton Honey Badgers by a score of 104-103.
The Nighthawks kept things close early in the first quarter, led by the efforts of Myck Kabongo early on. He was able to use his speed to make plays happen, finding himself at the free throw line to score the first points of the game for Guelph.  While the Nighthawks were able to keep pace early on, the Honey Badgers began to pull away late in the quarter. A last-second three-pointer from Sampson Carter extended Hamilton's lead to 9 points to end the first quarter.
The second quarter was evenly matched, but a quick burst of scoring for the Nighthawks in the middle of the quarter got the hometown fans back into the game. Despite that, the Honey Badgers continued to keep pace with Guelph and were able to hold a 53-46 lead at halftime.
Kabongo led the charge for the Nighthawks in the third quarter, scoring 12 points in the frame. Guelph's scoring came from all over the court, including four three-pointers in the quarter. Their long-range shooting combined with their ability to attack the basket was enough for Guelph to take a 74-73 lead heading into the final quarter.
It took all 40 minutes of play to determine the winner, with the game remaining close into the final seconds. Marcus Lewis was on a roll to start the quarter, but the Nighthawks were unable to pull away. With just seconds left on the clock, the Nighthawks trailed by five points. Jamal Reynolds scored a layup with just over a second left, then Marcus Lewis stole the inbound pass and scored to bring the game within one point. Despite their efforts, the Nighthawks came up just short.
Sampson Carter led the game in scoring with 25 points for the Honey Badgers, while Demetrius Denzel-Dyson had 24.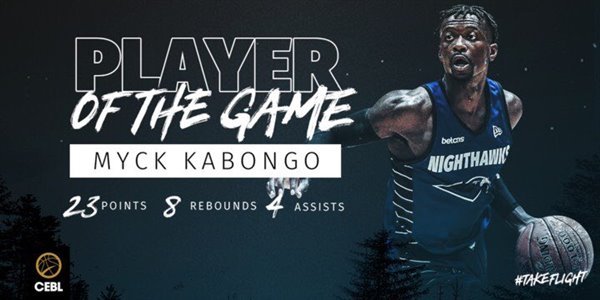 Myck Kabongo earned Player of the Game honours for the Nighthawks, finishing with 23 points, eight rebounds and four assists. Meanwhile, Guelph-native Connor Wood impressed in his debut, finishing with 17 points.
The Nighthawks are back in action on July 4 as they travel to take on the Fraser Valley Bandits, then return home on July 6 to host the Edmonton Stingers.
- 30 -