Staff Writer, Cameron Burgess - July 6, 2019
The Guelph Nighthawks struggled to find their stride on Thursday night, falling to the Fraser Valley Bandits by a score of 85-72. 
With a three-pointer just two minutes into the game, Guelph's latest addition Jermel Kennedy scored his first points as a member of the Nighthawks. Both teams traded baskets through an evenly matched opening quarter, with the Bandits owning a 20-19 lead after the first 10 minutes.
The second quarter proved to be a difficult one for the Nighthawks as they were only able to score 13 points. Joel Kindred scored five points in the quarter, but all around it was a quarter to forget for the Nighthawks. The good news for Guelph was that they trailed by just 11 points at halftime and have shown throughout the season that they are able to battle in the second half of games.


Guelph began the second half with a 7-0 run including five points from Connor Wood, before Marek Klassen scored the first points of the half for the Bandits. The Nighthawks outscored the Bandits 22-20 in the quarter, with Wood scoring 10 of his 17 points in the frame, but that still left the Guelph trailing by nine points heading into the fourth. 
Unfortunately, the Nighthawks ran out of steam in the final quarter of play. They were able to keep pace with the Bandits, but never able to go on a scoring run of their own. The closest Guelph got in the final quarter was within nine points, but Fraser Valley continued to find an answer. 
While the Nighthawks made 40 percent of their shots from beyond the three-point line, they only shot 34 percent overall. The Bandits did a good job of making shots in close to the hoop, outscoring the Nighthawks 42-22 in the paint.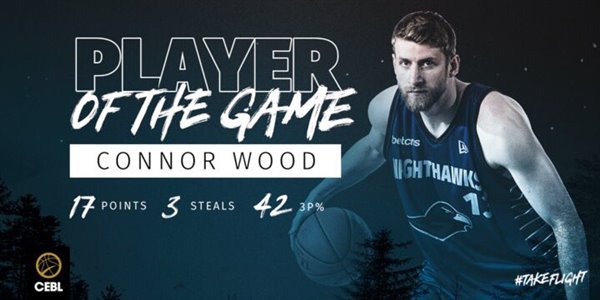 Connor Wood earned Player of the Game honours for the Nighthawks with his team-leading 17 points, while also adding an assist and three steals. Newcomer Jermel Kennedy had a solid debut, recording 12 points, six rebounds and two assists.
For the Bandits, Jelan Kendrick led the way with 18 points while also grabbing 10 rebounds and three steals.
The Guelph Nighthawks are back in action on Saturday, July 6 as they host the Edmonton Stingers at the Sleeman Centre.
- 30 -