Staff Writer, Cameron Burgess - August 12, 2019
In their final home game of their inaugural season, the Guelph Nighthawks put on a show for their fans but fell short on the scoreboard, losing 131-115 to the Hamilton Honey Badgers.
The Honey Badgers opened the game with a 10-0 run, but the hometown fans erupted when Michale Kyser scored the first basket for Guelph to stop the run. Nighthawks MVP Olu Famutimi followed that up with a three-pointer to get Guelph back in the game, but the Honey Badgers offense was relentless in the first quarter. Hamilton made 16 of their 23 attempts in the opening quarter to jump out to a 37-23 lead.
Guelph opened the second quarter with a pair of three-pointers from Myles Charvis and Tyrell Corbin, but Hamilton's accurate shooting kept them comfortably in the lead. The Honey Badgers were selective with their three-point attempts throughout the first half but connected on them more often than not. They also dominated the glass, outrebounding the Nighthawks 32-12 in the half. At halftime, the Honey Badgers were up 68-51 thanks to their leading scorer Xavier Rathan-Mayes with 17 points.
The Nighthawks opened the third quarter with a burst of energy, but it seemed like the Honey Badgers always had an answer to halt the momentum swing. Myles Charvis continued his strong play for the Nighthawks, keeping them within striking distance of the Honey Badgers. Despite his efforts, the Honey Badgers held a 95-84 lead going into the final quarter and Guelph had a big deficit to overcome.
Connor Wood began the fourth quarter with eight points in the opening 2:44, and followed by a basket from Famutimi that got the Nighthawks within just seven points. Guelph ran into trouble when Michale Kyser fouled out with 6:42 left in the game, and Honey Badgers used their size to get in the paint once the Nighthawks were without their 6-foot-10 forward. Kimbal Mackenzie tried to take control of the game late, scoring on three straight possessions, but the Nighthawks comeback effort came up short.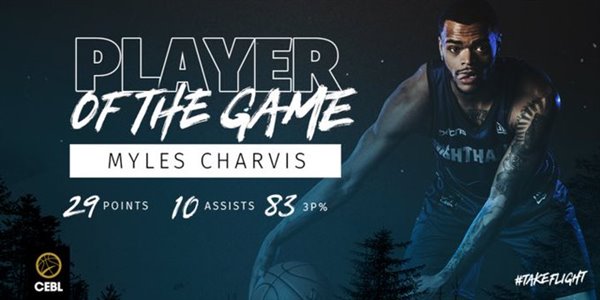 Myles Charvis earned Player of the Game honours for the Nighthawks, finishing with a game-high 29 points on 73 percent shooting along with 10 assists. Connor Wood finished with 18 points, while Tyrell Corbin and Kimbal Mackenzie both finished with 15.
Xavier Rathan-Mayes finished the game with 27 points for the Honey Badgers, while Ricky Tarrant Jr, Demetrius Denzel-Dyson and Sampson Carter all finished with 22.
The Nighthawks have one game remaining in their inaugural season, travelling to face the Saskatchewan Rattlers on August 15 at 7 P.M.   
- 30 -