This Saturday evening
September 14th from 6 to 8:30pm, the
Diana Downtown
proudly presents their 8th annual Guelph Jazz Festival "Jazz Around Town" series Dinner Show with popular jazz vocalist
Brenda Lewis
.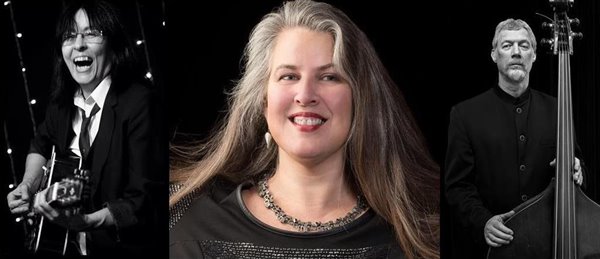 [ Photo of Brenda Lewis by Andrew Balfour Photography ]
Originally from eastern Ontario, this versatile Guelph-based singer was just honoured with her 2019 induction into "The Brockville and Area Music & Performing Arts Hall of Fame. The past couple of years have seen her featured in The Jazz Room's "Women in Jazz" Series, her own "25 Years of Singing" Celebration in the Guelph Youth Music Centre's Concert Series, The 2018 Uptown Waterloo Jazz Festival, and in "The Breithaupt Bros Come Home to Kitchener in The Registry Theatre's Jazz Series. 
Also recently presented by The Old Mill's Home Smith Bar, McMichael Gallery, Merrickville's Jazz Fest, and 1000 Islands Jazz Festival, Lewis' latest CD, "Far & Near" has garnered rave reviews and airplay on JAZZ-FM, CBC and beyond. 
At the Diana,
she is once again joined by longtime music partner, acclaimed Toronto jazz guitarist
Margaret Stowe
and Guelph's own Cowboy Junkie / Tamarack-er
Jeff Bird
on upright bass and harmonica.
Saturday, September 14, 
6-8:30 PM
Diana Downtown (141 Wyndham St. N., Guelph ON)
No cover charge, but dinner reservations highly recommended 
- please call (519)-836-3460.