For Immediate Release - September 9, 2019
The Guelph Nighthawks Professional Basketball Club officially announce that six members of the 2019 active roster have signed Player Options declaring mutual intent to return to the club in 2020
The Player Option provides the Nighthawks an exclusive, protected window until March 1, 2020 to sign each of the following six players to a 2020 Canadian Elite Basketball League Standard Player Contract with the club:

The six players signed to Player Options include the Guelph Nighthawks 2019 Most Valuable Player, Olu Famutimi; August's CEBL Player of the Month, Myles Charvis; the Nighthawks leader in points per game, Kimbal Mackenzie; and Guelph local and the CEBL's reigning 3 point percentage leader, Connor Wood.  The team also extended the Player Option to two of its three international players, Michale Kyser and Tyrell Corbin.
"Today's announcement is a significant day as we start formulating the building blocks of the Nighthawks 2020 roster. Knowing these six players intend to return in 2020 provides Coach Kissi with the framework to build around as he begins his scouting and recruiting process to fill out the balance of the club's roster," said team President Cameron Kusch. "It is the groundwork that starts today which will allow us to pursue not only a berth in the 2020 CEBL Championship Weekend, but also pursue Guelph's first CEBL Championship Trophy."
Once free agency opens next year Head Coach and General Manager Charles Kissi will start building the balance of the Guelph Nighthawks 2020 roster around the core of the six optioned players.  All other players that concluded their season on the Guelph Nighthawks roster and not signed to a Player Option have officially become free agents and are eligible to sign with any CEBL club, including the Nighthawks, once free agency opens next year.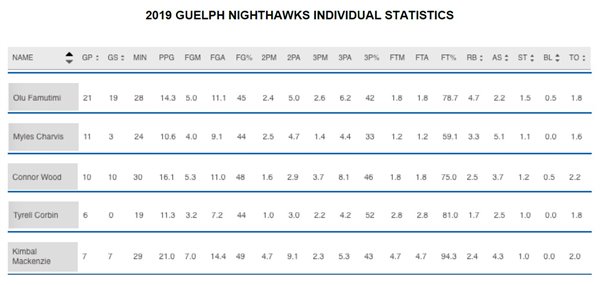 For more information
on the Guelph Nighthawks and 2020 season ticket packages please visit
www.thenighthawks.ca/tickets
or call (548) 988-HAWK.
- 30 -