The Canadian Festival of Spoken Word (CFSW), a national, nomadic, annual spoken word festival, usually held in a different Canadian community each year, will be hosted for the second year in a row here in Guelph from Sunday October 13 to Saturday October 19. The original intent of the festival, to provide a national showcase for poetry slam talent, has expanded to include an array of spoken word panels, showcases, workshops and other events designed to facilitate the growth and vibrancy of the Canadian spoken word and poetic communities. 
A poetry slam, is an interactive, spoken word competition where performance poets present original writing and randomly-selected audience members judge the art with scorecards. The team of poets with the highest score moves on in the competition and the winning team will be crowned the 2019 National Slam Champions. Think "poetry reading, meets rap battle, meets theatre monologue".
What began in 2004 as a small Ottawa-based festival with six slam teams of poets has grown into a national poetry slam competition with eighteen teams from across the country participating, and over 2,500 guests in attendance!
This year's CFSW theme 'Discovery' speaks to 'The Story Within Us'. Through programming selections, the festival invites patrons and artists alike to explore their lives and personal stories with a fresh perspective, shedding light on intricacies, uniqueness, and seemingly undiscovered elements. The theme Discovery will also engage with 'the curious' by presenting a wide range of spoken word forms.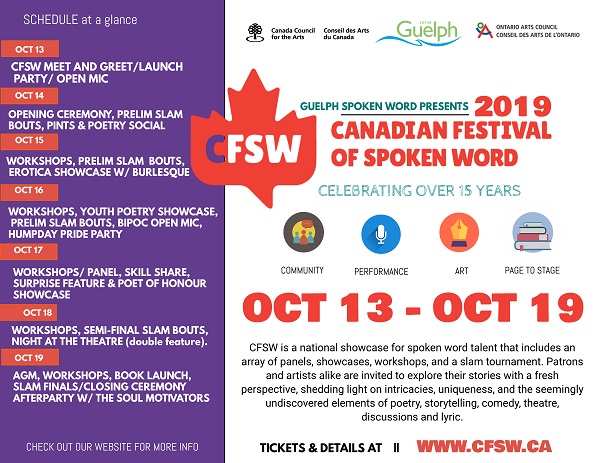 GSW thanks their major funders and sponsors: Canada Council for the Arts, Ontario Arts Council, Musagetes, City of Guelph, Guelph Arts Council and many more businesses and organizations both local and national: the eBar, Days Inn, Guelph Pride, Guelph Community Acupuncture, Spoken Word Canada, Kura Naturopathic Clinic & RMT.