Montreal in 1969. The glory days of Expo 67 are fading and a home-grown separatist movement, the FLQ, is ramping up its terrorist activities. An old veteran dies; an accident, say the police, but his granddaughters Kit and Sondra disagree.  
Beginning their own investigations, they stir up danger, intrigue, and for Kit, the possibility of love, as they strive to unravel the mystery of their grandfather's death.
"…a wonderful historical mystery, cunning and political, but most of all: surprising and intriguing. Skeptical Kit and her imaginative and emotional younger sister Sondra make delightful sleuths, exploring Montreal during the FLQ crisis of the late 1960s. I enjoyed this novel very much." -  Sandra Gulland, author of the Josephine B. Trilogy
 "… a tale of sisterly love, human failings, misplaced loyalty, betrayal, forgiveness, danger and intrigue, delivered with a historically interesting twist. It is an engaging and suspenseful read." - Sue Williams, author of Ready to Come About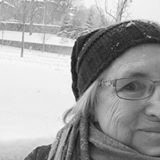 Graduating in in 1969 from the University of California, Berkeley, Nikki travelled for several months, arriving in Montréal in April, 1970 where she lived until 1992. Nikki came of age in California during the sixties and held a sympathetic view of the Front de libération du Québec until the October Crisis. The events leading up to the FLQ's kidnapping and murder of Pierre Laporte, the beauty of Montréal and the complexity of Québec politics inspired the setting and backdrop of Evidence of Uncertain Origin, Nikki's first mystery novel. 
Nikki lives and writes in Guelph, Ontario. She has self-published a book of poetry, connect dis connect with the help of Vocamus Press and developed writing workshops under the auspices of her small business, Scripted Images.
- 30 -