For Immediate Release - Thursday November 7, 2019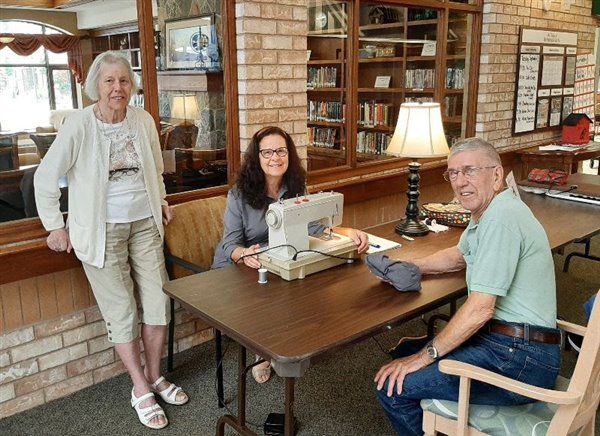 [photo credit: Guleph Tool Library] Berryl Holtam, Sew on the Go Coordinator,  is pictured with John VanEsch and Tina Kloosterma at The Village of Riverside Glen
The Guelph Tool Library wants to tackle the issues of clothing ending up in local dumps and access to affordable clothing repairs for seniors.  The Guelph Tool Library found through its Repair Cafe Guelph events that there is a strong demand for sewing repairs. Studies have also shown that textiles are the second largest contributor to landfill waste in Canada. Clothing repair is one option for diverting or delaying this waste from local landfills.
Guelph Tool Library Coordinator John Dennis said "we recognized that seniors were a target group that the Repair Cafe Guelph was not reaching.  There are numerous barriers for seniors living in retirement homes to complete sewing repairs. These include not having sewing equipment to do their own repairs or having the financial resources to pay for this service."
Sew on the Go is lead by Beryl Holtam, a volunteer with the Guelph Tool Library's Repair Cafe Guelph.  As a regular volunteer with the Repair Cafe, Beryl Holtam says she "has witnessed the clear need for clothing repair and the deep appreciation of the recipients of this service." Holtam took it upon herself to test the concept of sewing repairs at her place of employment, a senior community center, and their response was overwhelmingly positive. 
Letters were mailed to retirement facilities in Guelph inviting them to host Sew On The Go on a monthly basis.  The service is free for the residents with the option of making a donation to the Guelph Tool Library. All donations go towards supporting the program. Currently, Sew On The Go is active at 5 Retirement/Long Term Care facilities in Guelph.  The short term goal is to expand the service to 8 facilities on a monthly rotation.
Holtam said that "in time the program hopes to add the feature of an additional on-site sewing machine where seniors with previous experience will have free access. This project component will give the opportunity for a senior to once again experience the satisfactions of mending their own clothing."
The Guelph Tool Library hopes that by bringing Sew On The Go to retirement homes, we have the best opportunity to reach the greatest number of seniors. Dennis related that "it's a win win scenario, seniors get to continue to wear their favourite clothes while also supporting the Guelph Tool Library's mandate to reduce waste and repair items." 
If you know
of a multi-unit senior residence in Guelph that could benefit from Sew on the Go, the Guelph Tool Library would like to hear from you. We can be reached at
sewonthego@guelphtoollibrary.org
- 30 -