Even in today's absurdly fragmented music scene, it's easy to spot legendary bands. They're the ones reliably cranking out great album after great album, each distinct and accessible, in sync with the times, yet timeless.
Witness pop/rock luminaries 54-40 and their newest single — the swirling, futuristic, yet somehow vaguely psychedelic "Sublime Like Me" — available now. Established New Year's Eve 1980 at Vancouver's famed Smilin' Buddha Cabaret, these award-winning, gold and platinum-selling writers and of countless, iconic, enduring, and chart-topping gems fit neatly within the use of the word.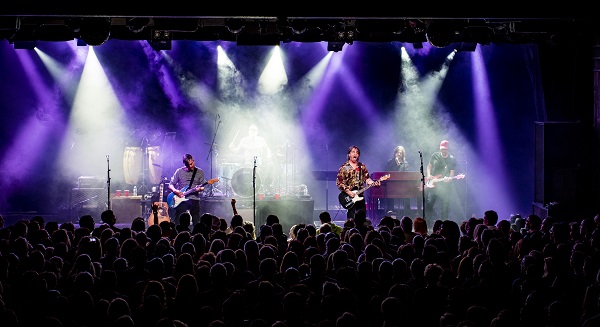 Fresh off their most recent release, Keep On Walking, "Sublime Like Me" is one of 11 originals whittled down from 25-odd demos, and a vivid snapshot of where singer/guitarist Neil Osborne, bassist Brad Merritt, drummer Matt Johnson, and guitarist Dave Genn are right now: dialled in and seriously on fire.
"My favourite song on the album," Johnson says of "Sublime Like Me." "I love the groove."
"We've played the song live a few times and it's already evolving," Merritt adds. "I think it has the potential to become a staple of our live shows well into the future."
Speaking of live shows, the band are set to take the stage:
January 9, 2020  Capitol Centre  North Bay  ON
January 10, 2020  FirstOntario Arts Centre St. Catharines    ON
January 11, 2020   FirstOntario Arts Centre   Milton   ON
January 12, 2020  Performing Arts Centre Burlington    ON
January 14, 2020 Dominion Telegraph Event Centre   Paris  ON
January 15, 2020  Dominion Telegraph Event Centre    Paris  ON
January 16, 2020  Meaford Hall    Meaford     ON
January 18, 2020  The Music Hall   Oshawa    ON
January 19, 2020  River Run Centre    Guelph     ON
54-40 can be found on El Mocambo Records, created by Michael Wekerle, owner of the legendary El Mocambo, one of Toronto's oldest live music establishments. 
The El Mo is undergoing a major renovation (led by Walters–Storyk Design Group) that will transform the historic venue into a state-of-the-art entertainment, recording, and production facility. It is expected to reopen in the spring of 2020.
"Sublime Like Me" and Keep On Walking are available now.