Silence is the perfect intimate setting for this improvised "part spoken word; part music" performance by the mesmerizing duo of South African multi-instrumentalist and spontaneous cellist HA!Man, and, Belgian writer and actress Joke Debaere. Through original electronic music including flutes, keyboard improvisations, poetry and dance; together they create a unique, experiencial musical journey for the audience.
At Silence Sounds, 46 Essex, Guelph 
Sat Sept 22 at 8:00 pm (Doors open at 7:30 PM)
Tickets: $15 at the door (* Cash please)
Where does the name 'HA!man' come from?
The meaning of 'HA' is breath and life - a natural rhythm. It is an intuition and it can be translated into many things. It is control and freedom combined. "Spontaneity is associated with natural rhythms (like breathing) and any creative process that strays too far from this holistic (or healthy) approach cannot be regarded as HA!art."
"A fusion of variety and impulsiveness - it is true spontaneity ... funky, vibe-y and energetic sounds. There is real passion and energy ...  and it immediately transformed the mood in the room. There was a tangible shift in energy and it was inspiring." (Space Magazine, Namibia)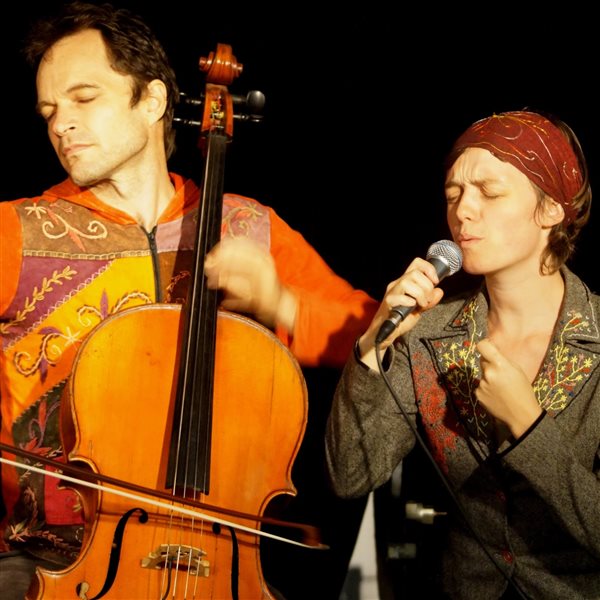 ARTISTS' BIOGRAPHY:
South Africa's Francois le Roux aka "HA!Man" is a cellist who left the classical music environment to embark on a journey of spontaneous music-making and is joined by Belgian word artist and actress Joke Debaere. Together they bring the "HA!Show" to local communities in three continents every year! They literally carry worlds within as it has grown and evolved over two decades. 
Each performance is unique, yet draws on a stable body of original electronic accompaniments; evoking concert halls, festive sounds, intimate acoustic textures and a broad range of feelings. 
This spontaneously-enacted journey takes each audience through an intense and life-affirming experience - and can open up to be interactive and participatory, depending on the group. Not much more can be said, as live creativity has to draw on the unknown from where each and everyone can be deeply surprised. Bring instruments along and open hearts.