For Immediate Release - September 15, 2020
Dr. Karen Farbridge, former Mayor of Guelph, is bringing her climate change expertise back to town in an event hosted by eMERGE Guelph Sustainability on Sept 23, 2020.
Since leaving office, she has been working with communities and governments across the country in fighting climate change through practical and achievable ways.
"We're concerned that Guelph isn't working fast enough to fight climate change" said Evan Ferrari, Executive Director of eMERGE. He continued: "We want to show what can be done and know that Dr. Farbridge brings a wealth of knowledge from around the world. She can help us learn about best practices to accelerate the transition to a low-carbon and energy efficient economy especially in the midst of a pandemic."
Well over 400 communities in Canada, with over 50 in Ontario, have completed Community Energy Plans. Many of them are now demonstrating continuing implementation efforts driven by aggressive greenhouse gas (GHG) emission reductions and energy efficiency targets coupled with community demands for climate emergency declarations.
The shock of the COVID-19 pandemic provides an excellent opportunity to transition to low-carbon, energy efficient communities by accelerating this work coupled with the use of stimulus funding and legislation.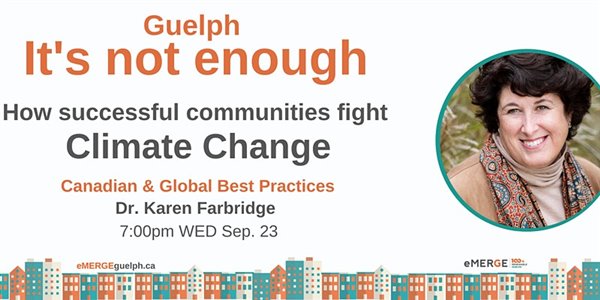 Guelph, It's not enough: How successful communities fight Climate Change
Canadian and Global Best Practices
7:00 pm Wednesday September 23
Contact:
Evan Ferrari
Executive Director
eMERGE Guelph Sustainability
519-836-8068
About Dr. Karen Farbridge - Dr. Farbridge has over 25 years of experience in change-making in the non-profit, public, and private sectors. She went from grassroots organizing with her early work at the Ontario Public Interest Research Group (OPIRG), to a PhD in Zoology, and then she became the first female Mayor in Guelph in 2000, after spending years on City Council.
She has a longstanding passion for building sustainable and resilient communities. She has been a leader in various community innovation projects including smart growth, downtown revitalization, open government, neighbourhood development, community wellbeing, resource and natural heritage protection, community energy and municipal governance. She is a respected speaker who has worked to educate on matters of urban interest and community resiliency to broad and diverse audiences both locally and internationally.
Dr. Karen Farbridge received the eMERGE Climate Change Hero award in 2019.
About eMERGE Guelph Sustainability - eMERGE Guelph Sustainability fights climate change to build a healthier society. It does this by engaging, and equipping Guelphites to transition to a 100% renewable energy (100RE) economy. It uses the narrative of achieving 100% Renewable Energy by 2050 as a positive goal to win this battle. This is done primarily by helping people reduce energy and water use through an individual residential focus along with community events, outreach and engagement that promote smart behavior, policy and improved efficiency to help Guelph build a road map to beat climate change and achieve 100% renewable energy by 2050.
-30-