For Immediate Release - October 1, 2020
Thanksgiving dinner is renowned for the turkey at the centre of the feast, with traditional side dishes that reflect the season's harvest.
 But it's the little things that make the dinner go from a showpiece to a true culinary experience — the seasonings and little touches that elevate the flavours and add new dimensions to the meal. It could be the way the bird is prepared for roasting, or a slight alteration to a traditional side dish that gives it more complexity.
 "With more people eating local and looking to incorporate healthy alternatives in their diet, it's a perfect time to experiment with microgreens in your traditional dishes," says Jacquie Needham, Account Manager with GoodLeaf Farms. "Microgreens pack up to 40 times for nutrients than their mature plants, and add new flavours to what you are preparing."
 GoodLeaf Farms is a controlled-environment indoor vertical farm in Guelph, Ont., that produces fresh microgreens and baby greens in Ontario all year long, free of pesticides, herbicides and fungicides.
There are several ways to incorporate fresh and nutritious leafy greens into your Thanksgiving menu:
Stuffing — Most home cooks who tackle a turkey have their own unique recipe for stuffing, often one that has been passed down through the generations. But give your tried-and-true a fresh upgrade by adding a garnish of GoodLeaf Pea Shoots, or adding some mustard notes with a final addition of GoodLeaf Spicy Mustard Medley.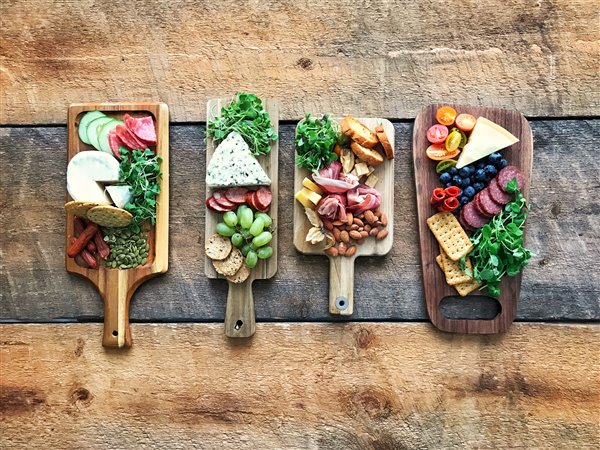 Charcuterie
— Appetizers are important to both prepare the palate for the main course but to also give dinner guests something to munch on while sharing stories. There is no one way to
make a charcuterie board
, but among the cured meats, cheeses, olives and pickled vegetables, add a pop of green and a burst of nutrients with some microgreens. GoodLeaf's Micro Arugula is a perfect pair with rich meats and cheese like salami and brie. For an extra touch, toss your greens with a small amount of lemon juice, olive oil, salt and pepper before putting them on the board.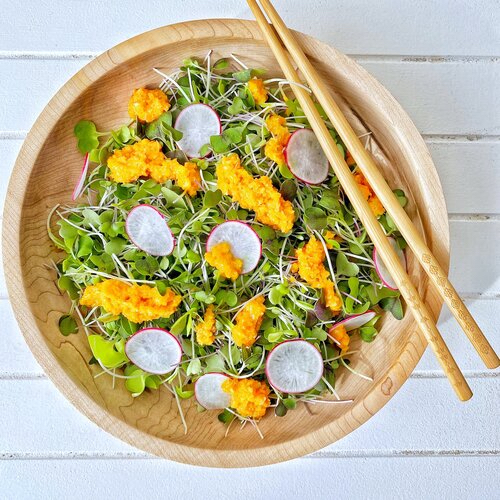 Carrot and Ginger Salad
— A
fresh autumn salad
to kick off the dinner is a great start. Start with the dressing: In a food processor, add one peeled and chopped carrot, two-inch cube of fresh ginger, a quarter of a finely chopped onion, one tablespoon each of soy sauce and sugar, one teaspoon of red wine vinegar and a pinch of salt. Pulse until chunky but combined. Place on low speed and slowly drizzle in ¼ cup of Canola oil until fully incorporated. In a salad bowl, layer one package of GoodLeaf Asian Blend with three thinly sliced radishes. Top with dressing and serve immediately.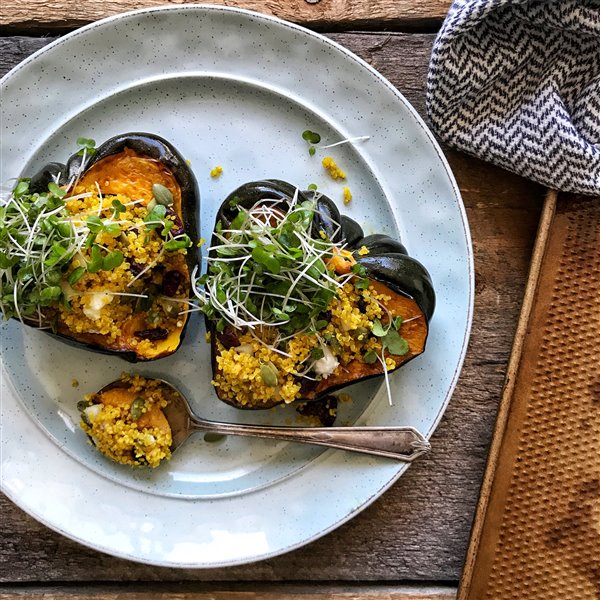 Acorn Stuffed Squash with Micro Arugula Salad
— Packed with flavour and taking advantage of Ontario's fall vegetable harvest, this
side
is a great complement to the Thanksgiving main course. Preheat oven to 425°F. Cut the squash in half and remove the seeds. Place both halves on a baking sheet and sub with olive oil and sprinkle with salt and pepper. Turn them over and roast cut-side down for 30-40 minutes until soft to touch. Set aside. Meanwhile, mix ½ cup of quinoa, drizzle of olive oil, pinch of turmeric and salt in a stock in medium pot and bring to a boil; reduce heat immediately to low and allow to simmer under lid for eight to 10 minutes. Remove from heat and let sit for three minutes, fluff with a fork and toss with ¼ cup of roasted and salted pumpkin seeds, ¼ cup dried cranberries, a finely diced shallot, zest and juice of an orange and a pinch each of sweet paprika, cinnamon, cumin and dried ginger. Salt and pepper to taste. Stuff the mixture into the squash halves and top with GoodLeaf Micro Arugula lightly tossed in olive oil and a splash of lemon juice.
Turkey Sandwiches — One of the best parts of Thanksgiving is the leftovers. Dress up your next-day turkey sandwich with a little crunch of GoodLeaf's Pea Shoots or Spicy Mustard Medley, adding flavour, texture and a punch of nutrients.
Thanksgiving is a great time to eat local, as much of dinner can be sourced from farms close to home, and microgreens are no exception. GoodLeaf microgreens and baby greens give Ontario residents access to fresh local food that is packed with nutrients — as opposed to leafy greens that have been exposed to the elements, treated with chemicals, packed into trucks and shipped for days or weeks from the Southern United States to Ontario.
About GoodLeaf Farms:
With a passion for delicious, nutrient-rich greens, GoodLeaf was founded in Halifax in 2011. Using an innovative technology and leveraging multi-level vertical farming, GoodLeaf has created a controlled and efficient indoor farm that can grow fresh produce anywhere in the world, 365 day of the year. The system combines innovations in LED lighting with leading edge hydroponic techniques to produce sustainable, safe, pesticide-free, nutrient-dense leafy greens. GoodLeaf has ongoing R&D Programs in collaboration with the University of Guelph, Dalhousie University and Acadia University.
-30-