Staff Writer, Cameron Burgess - August 2, 2019
The Guelph Nighthawks got the better of the Niagara River Lions this time around, winning the rematch of their game from last weekend by a score of 101-90.
Kimbal Mackenzie got the first points of the game for the Nighthawks, a sign of things to come from the guard for the rest of the game. Guelph maintained control of the game early on in the quarter, but with a five-point lead and three minutes left in the opening frame the Nighthawks hit a roadblock. The River Lions scored 13 straight points to take a 30-22 lead after the first.
The Nighthawks bounced back by scoring 33 points in the second quarter, including eight from Tyrell Corbin in the final 2:07 alone. Guelph capitalized on their scoring opportunities throughout the quarter, while Niagara failed to do so at the same pace. The big second quarter put the Nighthawks up 55-52 over the River Lions at halftime.
Both teams came out trading baskets in the third quarter, but it was Kimbal Mackenzie once again leading the charge for the Nighthawks. He scored 13 of his game-high 25 points in the quarter as Guelph aimed to extend their lead. Meanwhile, the River Lions relied on a balanced scoring attack to keep the game close. The Nighthawks extended their lead to seven points at the end of the quarter as Olu Famutimi made two free throws with seconds left, heading into the final quarter up 79-72.
The River Lions were within reach of the Nighthawks early on, cutting their deficit to just three points. The score remained close until the midway point of the quarter, when Famutimi scored on back to back possessions and Connor Wood extended the lead to nine points with a three-pointer. That was all the insurance the Nighthawks would need, as they would go on to win by 11 in the end.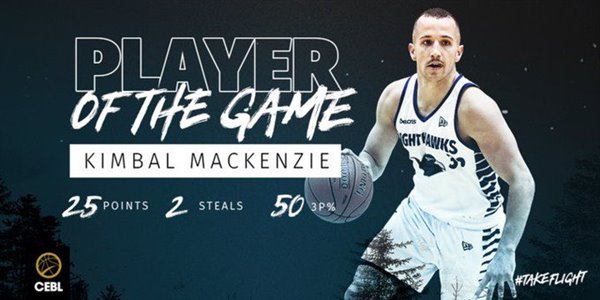 Kimbal Mackenize earned Player of the Game honours for Guelph, finishing the game with 25 points, including shooting 50 percent from three-point range, two assists and three rebounds. Famutimi contributed 18 points, while Wood chipped in with 17.
For the River Lions, Ryan Anderson led the offense with 22 points, seven rebounds and four assists.
The Nighthawks are back in action on August 3 as they visit the Hamilton Honey Badgers, with tip-off set for 5:00 P.M.
-30-