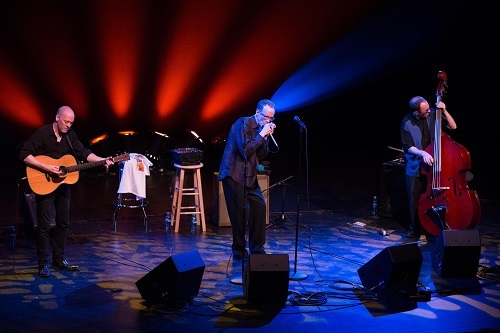 "A model of focus and urgency…a true virtuoso" Brad Wheeler (The Globe and Mail)
Saturday Nov 17 at 7:30 pm, marks the much-anticipated return of world-renowned Cuban-Canadian harmonica master Carlos del Junco to the River Run Centre's intimate Co-operator's Hall stage where he celebrates the release of his new CD "Hang On".  Del Junco fashions sound the way Michelangelo sculpted his David: with daring and sensuality (Carlos actually graduated from Ontario College of Arts in his mid twenties with honours majoring in sculpture)! 
Considered one of the world's greatest harmonica players, he is a pioneer of the "overblow" technique, allowing him to play a diatonic harmonica chromatically. The result is stunning: an eclectic blend of soundscapes from the sublime to quirky that often conjure different instrument tonalities, from the sax, clarinet, a sometimes electric guitar tonality, to the violin and even bagpipes!  
Simultaneously sophisticated and raw, his playing blurs the boundaries between blues, jazz and "roots" music (hence the name for his band The Blues Mongrels). The emphasis is on blues, but Carlos and his band are not afraid to merrily traipse off in other directions delivering a seamless fusion from New Orleans second line grooves, swing, Latin, ska, and, swampy roots rock, to singer/songwriter themes.
The new CD "Hang On"
features Eric St. Laurent and Henry Heillig on guitar and bass respectively, and, some back- up vocals from Jimmy Bowskill, with Kevin Breit playing mandolin and 12 sting resonator guitar on a couple songs. Enjoy some sample tracks and learn more About Carlos at:
http://carlosdeljunco.com/about.html
Carlos del Junco & The Blues Mongrels at The River Run Centre, Co-operators Hall, 35 Woolwich Street, Guelph
or call the River Run Box Office at (519)763-3000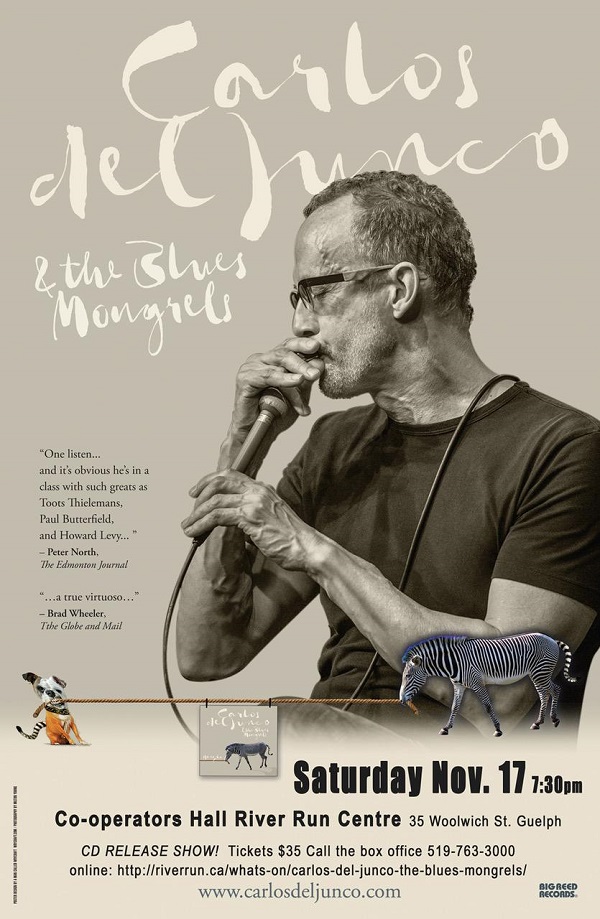 2017, 2018 SPAH (U.S.A. Society) Bernie Bray Harmonica Player of The Year Award nomination
2016 Maple Leaf Blues Nomination for Best Harmonica Player and Best Acoustic Duo (with Jimmy Bowskill for Blues Etc…)
2010 JUNO NOMINATION for STEADY MOVIN' cd 
2011 International Songwriter Award - 2nd place for instrumental of the year
EIGHT times Harmonica Player of the Year - Canadian Maple Blues Awards
2005 "Best Blues" Award - NOW Magazine, Toronto, ON
1998 JUNO NOMINATION for BIG BOY cd
1996 Blues Musician of the Year Award - Jazz Report Magazine
1993 Hohner World Harmonica Championship, Trossingen, Germany -Two Gold Medals in both diatonic blues and diatonic jazz
- 30-