Staff Writer, Cameron Burgess - July 8, 2019
With the playoff picture beginning to take shape, the Guelph Nighthawks were looking to turn their season around against the second-place Edmonton Stingers, but fell by a final score of 99-89.
The Nighthawks opened the scoring with a three-pointer from Marcus Lewis. The Nighthawks played with a sense of urgency early on, trying to avoid falling behind early. Despite a quick start to the game, the Nighthawks offense sputtered midway through the opening quarter, allowing the Stingers to pull ahead. Olu Famutimi connected on a shot from beyond the three-point line to end the first quarter, but the Stingers still led 27-20.
Guelph had opportunities to even the score in the second quarter but were unable to capitalize on them. A combination of missed shots and a few turnovers for the Nighthawks had the Stingers looking to expand on their lead. Adika Peter-McNeilly's three-pointer with seconds left in the half extended their lead to 12 points, but Myck Kabongo answered with a last-second layup to make the score 52-42 in favour of the Stingers at the break.
With the third quarter underway, both teams were exchanging baskets early on but Edmonton began to pull away. The Nighthawks gave the home fans a reason to cheer just past the halfway point of the quarter, after a big block by Chadrack Lufile turned into another three-pointer by Marcus Lewis at the other end. However, that energy was short-lived as the Stingers answered with eight consecutive points and held a 75-61 lead with just one quarter left to play.
The Nighthawks got off to a slow start in the fourth, while Xavier Moon took over for the Stingers. The Edmonton guard started the quarter nine points, two steals and an assist on an alley-oop pass that was finished off by Grandy Glaze. Trailing by 27, the Nighthawks made one final push but ran out of time. While they were able to close the gap to just 10 points, it was too late to complete the comeback.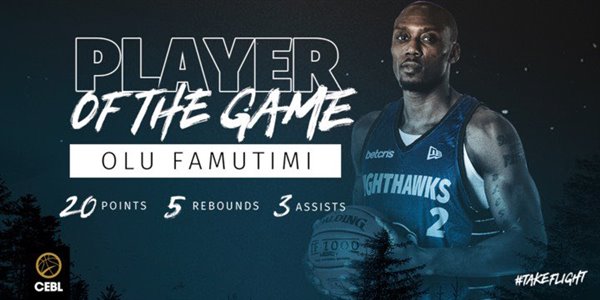 Olu Famutimi led the Nighthawks with 20 points, including 12 points from three-point range. He also added five rebounds and three assists during the game.
Xavier Moon finished with a game-high 21 points for the Stingers in addition to six rebounds and six assists, while Grandy Glaze finished with 15 points and a game-high 13 rebounds.
The Nighthawks and Stingers will become very familiar with each other over the next two weeks. Guelph's next game will be in Edmonton on July 11, while their next home game will be on July 20 as they host the Stingers in their final meeting of the regular season.
- 30 -