For Immediate Release - July 18, 2019
Today the Guelph Nighthawks professional basketball club launched Soar into Savings, providing both founding and new season ticket members with significant savings on 2020 Nighthawks season ticket memberships.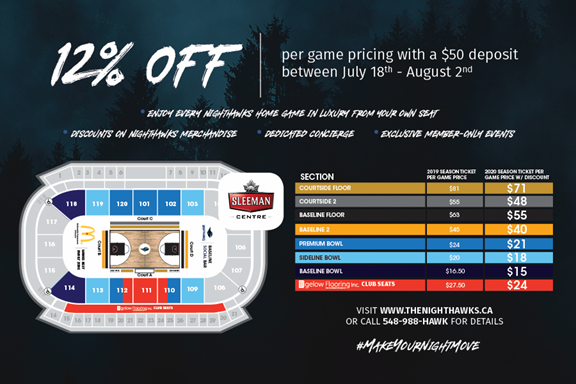 By placing a $50 deposit on 2020 season ticket memberships between July 18th and August 2nd, 2019, both founding and new season ticket members will automatically receive 12% off the per game ticket price for their 2020 season ticket membership package.  Founding season ticket members will have the first right to their existing seats and the first opportunity to upgrade into new seats for 2020.  New season ticket members will be placed into a seat selection priority list based on when they place their 2020 season ticket membership deposit.
Along with this campaign the Guelph Nighthawks also announced that 2020 season tickets prices are holding at the same price point as 2019.
Nighthawks President Cameron Kusch commented, "The strength of our team is our passionate, dedicated fan base here in Guelph. We feel the 12% off season ticket membership promotion is the perfect opportunity to recognize those founding members that helped launch Nighthawks basketball in 2019, while also providing a compelling offer to fans that are now considering a move into season tickets in 2020. If you're already considering season tickets, there is no better opportunity than now to join Nighthawks Nation and opt in to secure the best seating inventory available inside the Sleeman Centre."
The Soar into Savings 2020 season ticket membership campaign runs July 18 – Aug 2, 2019. 
Fans are encouraged to call 548-988-HAWK
to speak with an account manager, visit our ticket booth on floor level during home games on July 20th and 27th, 2019 or by visiting
www.thenighthawks.ca
for more details.
- 30 -