For Immediate Release -  July 29th, 2019
Sustainability Skills Workshop Series to Culminate at Zero Waste Festival This Summer
WHAT - On Saturday, August 10th, community members are invited to gather to celebrate sustainable living at Guelph's first Zero Waste Festival.  
WHO - Presented by the Guelph Tool Library, with the support of the Grange Hill East Neighborhood Group. 
WHEN - Saturday, August 10th, 10 am to 5 pm. Closing keynote presentation at 3 30pm.
The Guelph Tool Library will present the festival as part of their Ontario Trillium Foundation Seed Grant. The organization was awarded the grant in the fall of 2018, and will continue to offer their Sustainability Series workshops until the end of this August. So far, their workshops have included clothing repair, furniture refinishing, basic carpentry, and more - all with a focus on reducing waste and consumption on a local and global scale.
The Zero Waste Festival
will offer a vendor fair with products for creating a low-waste home and lifestyle, with over 30 businesses, community organizations, and service providers. There will be a mini Repair Cafe, with the opportunity to have bikes, clothing, and small appliances or electronics fixed by a team of volunteers. The Repair Cafe runs from 10 am to 1 pm, with the remainder of the festival continuing on until 5 pm. This portion of the event will be free to attend, but pre registration is recommended, and donations are welcome. To pre-register, visit
https://zerowaste2019.eventbrite.ca
or check out the Guelph Tool Library
Facebook
page.
The event will feature a series of workshops and information sessions, with pay-what-you-can tickets available in advance. 
• Any remaining tickets will be for sale at the door on a first come, first served basis.
• Alternatively, attendees can purchase a festival pass for $25-$35, which will allow patrons to attend two or more of the ticketed sessions. 
• Workshops in the ticketed series include Sashiko mending, furniture refinishing, seed saving, rag-rug making, and taking a "less is more" approach to aromatherapy. 
• Information sessions include a talk with eMerge Guelph, a panel on low-waste living moderated by Jen Novakovich of The Eco Well, and a Keynote Presentation and Q and A with Yannick Beadoin, the Director General of the David Suzuki Foundation for Ontario and Northern Canada. 
• Limited quantities are available for each presentation, and pre-registration is highly suggested. 
Patrons are encouraged to bring their own containers and cutlery to enjoy the on-site food vendors, or to pack a picnic lunch from home and enjoy the large lawn and picnic area at the Victoria Road Recreation Centre. The site will be bottled-water free, with the Guelph Water Wagon on site, so be sure to bring your reusable water bottle. Visitors are encouraged to walk, bike, or use public transit to reach the venue. Ample bike and car parking is free, and on-site.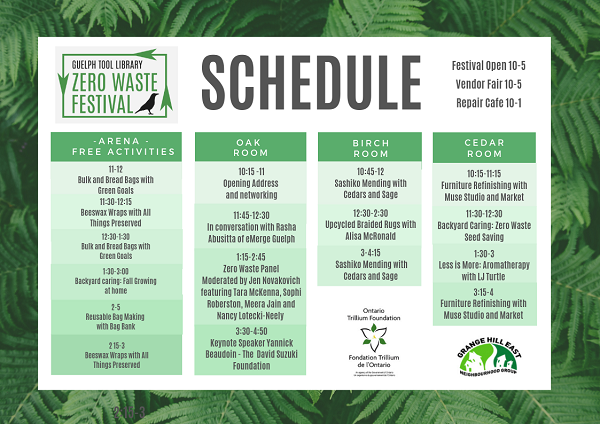 After-party 
For those looking to continue the sustainability discussion after the event, the official After-party is being hosted at Royal City Brewery from 6 pm to 9 pm. Snacks will be available, and drinks can be purchased from the bar. 
- 30 -