For Immediate Release - September 10, 2020 
Green Party of Ontario Leader and MPP Mike Schreiner released his party's principles for a Greener and More Caring Ontario: 
"The COVID-19 pandemic has tested our mettle as a province, and we aren't done with it yet. We still have many choices to make, and they need to be ones that will set us up for a better future.
The choices we make now will signal to the rest of the world whether we are ready and willing to embrace the global $27 trillion green economy and fix the gaps in our social safety net.
I believe that it is our responsibility not to turn backwards and return to the old path this province was on. This is not the time to fight the future, but to embrace it. 
This morning I sent the Premier a letter outlining principles for a Greener and More Caring Recovery. These are 5 of our 10 pillars that I'd like to prioritize to build back smarter as we approach the fall sitting and upcoming budget:"
1) Re-energize climate action with good jobs
2) Uphold our new respect for workers
3) Reimagine our cities and neighbourhoods to be affordable for everyone
4) Support our local independent businesses
5) Buy Ontario by protecting local food and water
"This crisis has also reminded us what is possible. We can achieve remarkable things when we count on each other, respect science, and cooperate on solutions.
The question isn't, will we bounce back? It's how. The Green Party of Ontario believes that together we can build back smarter."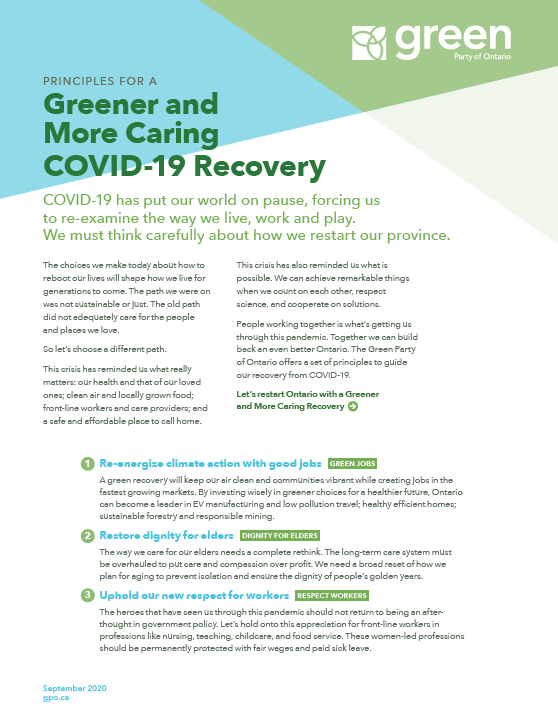 -30-